Posted on 17th Jan 2013 @ 2:36 PM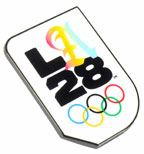 Classic Pins is located in Newtown, CT about a half mile away from Sandy Hook School. Our owners and employees' children all attended Sandy Hook School and are all deeply affected. We decided to create a Sandy Hook School memorial pin to be distributed within Newtown, and now we are making some available to our customers to raise funds for the services below:
100% of the SALE, including manufacturing and labor costs (the entire $5 per pin), will be donated to:
Newtown Youth and Family Services who is providing free counseling for families, community members and school staff.
Newtown Memorial Fund - Fund's mission is to create a lasting memorial location for Newtown, academic scholarships in the names of the victims for generations to come, and long-term support for the affected families.
Pin Information
There are 26 letters on the ribbon
Wings are glitter enamel
Size is 1.5" x 1.25"