The Derek Jeter official retirement logo is now available in collector pin form. The 2014 Derek Jeter Retirement lapel pin has been release and now available for $6.95 at Classic Pins.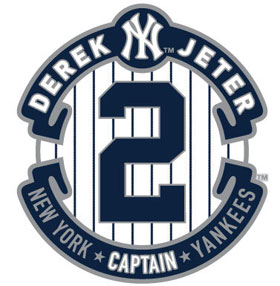 This year we say goodbye to one of the greatest baseball players in modern history. In this day and age, it is rare for any athlete to play their entire career for only one organization. Mr. Derek Jeter is certainly a throwback to yesteryear and this author is not only amazed by what Derek Jeter accomplished on the field, but maybe even more so, what he did and didn't do off the field. During his entire career in the brightest spotlight in the world, Derek Jeter put together an amazing baseball career and was truly one of the greatest role models for youth anyone could image. In contrast to so many modern athletes today where it is common for fans and media to build them up only to knock them down, Derek Jeter was teflon. Over and over we've seen our athletes crumble under bad choices and selfishness but Derek Jeter never compromised his role as Yankee captain and even more importantly, the #1 sports role model to youth. We salute you and thank you Mr. Derek Jeter.
This 2014 Derek Jeter Retirement pin is officially licensed by MLB and the Players Association. The pin design is the official Derek Jeter Retirement logo and is stamped MLB on the back.
Recent Posts
Due to the change in licensing over the years, we have not seen the very popular and collectible Ope …

School children at 16,769 elementary schools across Japan cast their votes to determine the official …

CLASSIC LIMITED PINS - What's In A Number?What is the utlimate lapel pin to add to your pin collecti …